If you compare the amount hair products, tools, accessories and all other trinkets we now have as transitioners or naturals to when our hair was chemically straightened, you will see that we're now taking much more space under the bathroom sink and sometimes in our closets too. Yeah, beautiful, healthy hair may not need all of that but, as they say, "life is too short to have boring "and sometimes we just can't resist. And on that note, I'd like to call your attention to a few  curly hair accessories you need in your life.
I'm not one prone to impulse purchases but I gotta tell you the items I'm about to talk about are not only essential but will bring ease to your hair routine and the Wow factor to your hair looks. So, without further ado lets have a look at them.
POOF IT HAIR TOOL
---
Naturalistas have experienced for far too long the frustration of trying to tie their hair with an elastic and seeing it get loose after the first or second use or worse, having it break despite careful efforts to apply just enough tension for that not to happen. I tell you it's frustrating and you know it! With the Poof It hair tool all that can be put behind us.
With this long hair tie (resembling a shoe lace), you can achieve several styles with ease, from puffs to braided updos with a bun. The bottom line is  if you need to tie your hair you should use the Poof It hair tool. You can get inspiration on their webpage or watch YouTube Vlogger Donedo using it to achieve a big bun. This tie is flexible, sturdy and 100% satin (major bonus here!) but unfortunately, it will only be available on a large scale from May this year as their awaiting financial support from their Kickstarter project. Check for more news on their website. Here is a lovely tutorial with the Poof it hair tool.
OUIDAD DOUBLE DETANGLER
---
Just looking at it you can't help but stare and wonder "Can this little contraption really work for curly hair? Better yet, can it work on two textured transitioning hair?". You may think "Who needs another comb!? I have one already", but our little inquisitive minds and sheer fascination for this double detangler will eventually convince us that maybe two combs work better than one, and so I suspect we'll buy it.
Whether you detangle your hair solely with a wide tooth comb, a brush or finger detangle and then finish with a comb, this innovative tool claims to help cut the detangling process in half and according to most reviews it certainly does. A great advantage of Ouidad's Double Detangler is that it doesn't have any seams that could snag and break your hair, so thumbs up for that!!
I've been finger detangling my hair since I've been on my natural hair journey, but I find that ever since I cut off my relaxed ends my hair really coils and to make sure there are no tangles I finish it off with a comb. If you're like me you'll want to get Ouidad's Double Detangler tool, it's pretty handy. This two-in-one-comb really seems to work!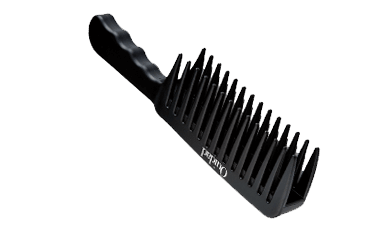 THE WRAP LIFE
---
It's quite often that when we don't feel like doing much to our hair, we have an old hairstyle or it's not looking the part we resort to putting our hair in a bun or something similar. I do this all the time and I'm sure you do too, and it's totally fine we all have busy lives or feel lazy at times and styles like this are easy, quick and cute. But, wouldn't you like to spice it up a bit from time to time?
A head wrap seems just like the perfect hair accessory to reach out. The Wrap Life, as the name hints at, is a company that sells beautiful head wraps that will bring inspiration and creativity to your everyday life. If you're wearing a bun why not wrap it? If you're feeling lazy just cover your hair with a wrap. If you need a little weather protection, wrap it up! If you wanna feel bold and sexy, wrap it up! Yes, you can get any satin scarf or similar and wrap it around your head but trust me it won't have the same effect and they probably won't make you feel the same, I'll bet.
Yes, a wrap from The Wrap Life will allow you to achieve different looks but, more importantly, no matter which pattern you go for you can always be sure to look and feel bold, confident, sexy but most of all A-ma-zing! Their wraps are all handmade or hand printed made of cotton and they come in beautiful patterns or in solid vivid colours. Take a look at this tutorial and go check them out! Don't you just love this?!
To sum it all up, yes we may have a ton of things to beautify, keep or nurse back to health our hair but there are just some things you look and say "Wow, I need this in my life!". I hope these items are like that for you because they really make your (hair) life easy and more beautiful!
What do you need in your life (hair regimen)? 
Featured Image: CreateHerStock (Elsa Arauz).