Transitioning from relaxed hair to a natural texture can be easier for some than it is for others. People's expectations when embarking on this journey can definitely be a major factor on this, nevertheless, it's never an easy road to take. Frustration and impatience are feelings that often accompany it and if you don't quickly learn to close your eyes, breathe deeply and count to ten you'll find yourself having a natural hair meltdown and possibly relapsing back to the relaxer. To help you stay motivated during your transitioning hair journey here are some common hurdles and how to overcome them.
#1|
Looking At The Mirror And Not Seeing Growth
---
There you are in front of the mirror trying to get some sense of hair growth, you look and you stare and there certainly doesn't seem to be any growth there. At least that's what you say to yourself, but trust me your hair is always growing unless there is some serious health issue.
Having relaxed hair, certainly made it easy for us to see hair growth, however, how much of that growth was healthy, how much did you have to cut or even, how much hair growth was "lost" because of extreme hair breakage? Your natural hair is now growing in a spiral, wavy, coily manner, therefore, you won't notice as much growth.
Sometimes your hair goes through awkward stages where you can't seem to be making any progress and all of a sudden, BOOM! Wow, how did this happen? How did my hair grow so much? If you focus on having healthy hair, moisturising, deep conditioning, trimming, having a proper diet and following your hair regimen, you'll foster hair growth. So focus on this instead of length and enjoy the curls you have.
#2|
Tired Of Trying New Products And Failing
---
Unfortunately, or fortunately, your new hair texture doesn't lend itself easily to any products you apply on it. No, you can't steal its affection that easily. It plays hard to get, so you can't just use the same products your curly friend or your favourite vlogger are using and expect the same results.
This is like trying a thousand different keys in a single keyhole. Only a few will actually open the door. Each head of hair has a different "hairprint" and you have to find out what works. Yes, there is a lot of trial and error in this activity, but take this opportunity to get to know your hair. I would advise you to introduce products slowly so you know what is actually working. But, don't just try them once and discard them. Experiment with a wash and go, protective styles, a technique or in a different product order. You could be pleasantly surprised.
#3|
Being Afraid Of New Hair Texture
---
This is perhaps one of the most common things you'll hear people talk about. I believe that many of us are still too attached to what is considered a good hair texture and a nappy texture while going natural. Expecting to see someone else's texture on yourself is unrealistic and ultimately, disappointing
To me, this is attached to the feeling of not knowing what to do with your hair if it doesn't come out the way you imagine or want it to be. To get the most out of your hair, you need to focus on your hair, get to know it, touch it and study it. Give yourself the chance to fall in love with your new hair texture. Don't spend all your time doing this thinking about X, Y or Z vlogger's hair, it's a waste of time. Do it for yourself, do it for your hair!
It's OK to look for inspiration on your favourite vloggers, but make sure that among them there is at least one person with a hair texture that is similar to yours. I don't want you to get disappointed and then run off to get a relaxer.
#4|
Too Much Shedding And Dryness
---
Are you getting desperate at all the hair shedding and dryness your facing? These are normal events during transition because your relaxed hair is weaker at the line of demarcation and because you may not know how to take care of it properly yet. Are you making sure you deep condition, moisturise and shield your hair with protective styles? It's important you engage in specific practices to avoid, or should I say minimise these effects.
With relaxed hair, you probably put your hair in the hands of your hairstylist, but now you need to be more involved in the care of your hair. No setting up some box braids or twists and forget about your hair underneath. Or washing your hair and failing to moisturise it mid-week when it needs. Take responsibility for your hair and trust me, you'll get so much more in return. Think about pre-pooing, sealing and LOC'ing your hair.
#5|
You Miss Straight Hair
---
Even though we're all "team natural" it doesn't mean we're saying goodbye to straight hair. At least I'm not!! I haven't done it for almost three years, but the day will come when I'll do it. For now, I'm focused on having healthy hair and don't really miss it. Yeah! I'm that in love with my curls. Anyway, my point is you should be focusing on health first, especially during transition.
But, if your urge is too strong and your determination to stay away from heat is weakening at least do it in a safe way. Don't make straightening your hair an excuse for not taking care of it. Keep this practice to once every two months or three months and when you do it 1) do a protein treatment to strengthen your hair, 2) use a lower heat setting and don't forget to use a heat protectant and 3) be gentle with your hair. Here is a video by MoKnowsHair to help you out.
#6|
Detangling Nightmare
---
If this is one of your struggles I totally get and support you. This was my Achilles' heel early in my transition, but I'm glad to say that unlike Achilles it didn't kill me or make me give up my journey. Yes, I conquered this big obstacle and so can you. Read my tips on detangling transitioning hair and wave goodbye to this nuisance while listening to N'Sync's song "Bye, bye, bye" (what? Don't know who they are? Am I too old?).
#7|
Too Many Rules
---
This is a common perception when you enter the natural community you'll often hear stop sulphate shampoos, silicones, chemicals ingredients and all sorts of things. Then you hear protective styles is the way to go, use a satin bonnet, follow this hair method, oh wait… now it's this one… Is your brain burning from overload already? Yeah, it can all be too much.
My advice is, don't worry too much about knowing all the different "rules" out there. The main thing is to keep your hair moisturised. So shampoo weekly (use a sulphate free shampoo), deep condition regularly, use good products that are water-based with natural/naturally derived and soluble ingredients.
Don't try to do it all. I know the natural hair community has a lot of rules for proper hair care, but in reality, many of them are unnecessary and/or don't add anything to your hair health. You can read more about rules you don't need to follow here.
#8|
Patience Is Thin
---
Your patience is running thin with all that has been said previously and you just can't seem to shake it off. The end result is you're lacking behind in your hair care, "forgetting" to pre-poo, deep condition every week or do protective styles… Yes, we kind of get the picture.
The thing is you're right, it takes a lot of patience to walk this road. However, if you've been doing it so far you can do it all the way. You know the saying, nothing worth having comes easy. So hang in there, take one day at a time and before you know it transition will be over. Until then, get it all off your chest. Talk to a friend who went through or is going through the same things you are, join a natural hair community (check Curly Nikki's forum os my FB group) or watch YouTube videos of your favourite vloggers. This will help you get support and forget about your struggles at the same time.
These are some of my tips if you're feeling cornered and suffocated with transitioning, like you can't handle it anymore, or that you're making things worse then better. I'm invested in making you go through this journey with the least stress possible so that you can truly enjoy the beauty of your hair. So don't give up, breathe deeply and face the next round till you reach the finish line. Comment bellow and share your struggles! Here's a nice infographic to pin and refer back to when in need.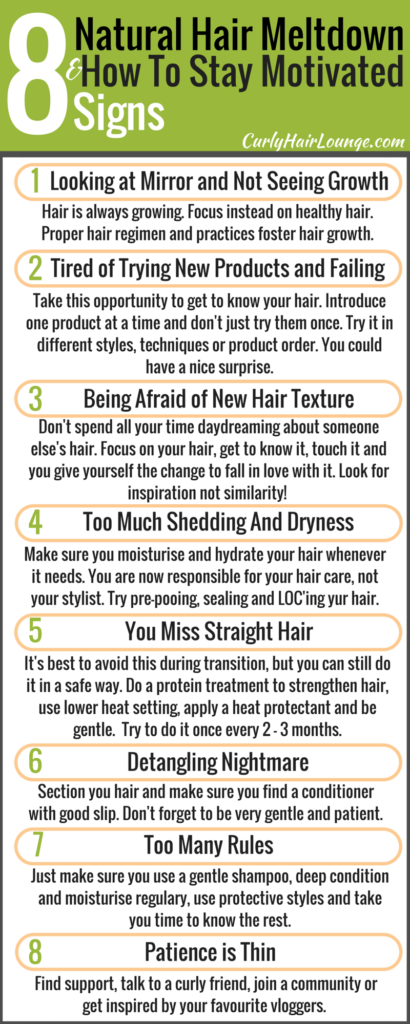 What makes your hair journey a struggle? What do you do to overcome it?
Featured image credit: Russell Mondy_destiny on Flikr (license)