You all know this month is all about holiday parties, family reunions, friend gatherings, the perfect outfit and glam hair, right?! So, while last week I kicked the month off by getting you to think about easy holiday hairstyles for curly hair this week because we're in the season of giving and it's wise to start early, I thought about some holiday gifts any curly hair would want to have.
In the past, I have made different gift lists to help you during this season one with gift ideas for natural hair transitioners (or anyone that has curly hair, really!) and another one more geared towards the experience of being natural or being pampered and feeling like a curly diva. Well, today, I bring you a mixture of both and I also throw in a few new things. 😉
I hope these ideas will still come in time to make it to your gift list. I certainly love all the items in this list and would love being offered any item in it (let's hope my husband sees this list 😀 ).
---
Holiday Gifts You'll Want To Have
---
#1|

OBIA NATURALS Twist & Define Gift Set
 
If you're a fan of doing protective styles this nice little (not so little) Twist & Define Kit from Obia Naturals will cover your product needs from cleansing to styling your curly tresses. I am not a fan of shampoo bars, however, there is nothing wrong with using it once in a while and it goes to your preferences (just make sure to remove build up as soaps create scum that builds up on the hair). As for setting your braids or twists, if you don't like hair butters, you can go for the Sweet Almond Heavy Cream but if you do, you can use the Twist Whip Butter.
By the way, if you're not a protective style girl Obia Naturals has a Shampoo & Conditioning Kit and a Wash N' Go Kit. These gift sets are great value for money since you are saving 50% when compared to buying all items separately, so thumbs up for that! Who doesn' want more coins in the bank!? 😉
Price: £25.95 (£51.88)/$32.98 ($32.98). Prices currently at 50% OFF
#2|

BOUCLEME

Ultimate Treat Gift Set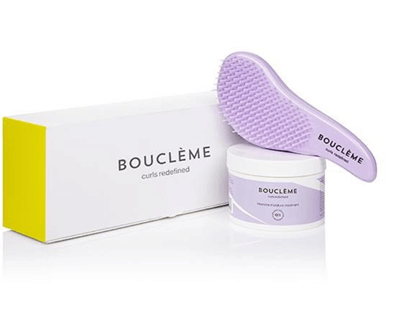 Because deep conditioning is always a must in my book when it comes to hair care, I found the Ultimate Treat gift set from British brand Boucleme the perfect present to nourish and treat your curls (make sure you check my Curly Guide to Deep Conditioning to boost your hair health).
To make things even better it comes their Tangle Slayer to detangle and define your curls.  Not sure if you should finger detangle, use the brush or comb? Read this post to get clarity. I personally use all three methods. Making sure my hair is well detangled from ends to roots is what decreased the number of single strand knots in my hair, even after doing more wash and gos.
If you'd prefer a different gift set you can get the Perfect Pair Curls, Perfect Pair Waves and Perfect Pair Stylers.
Price: £28
#3|

CURLMIX

 Wash & Go Hair Growth Set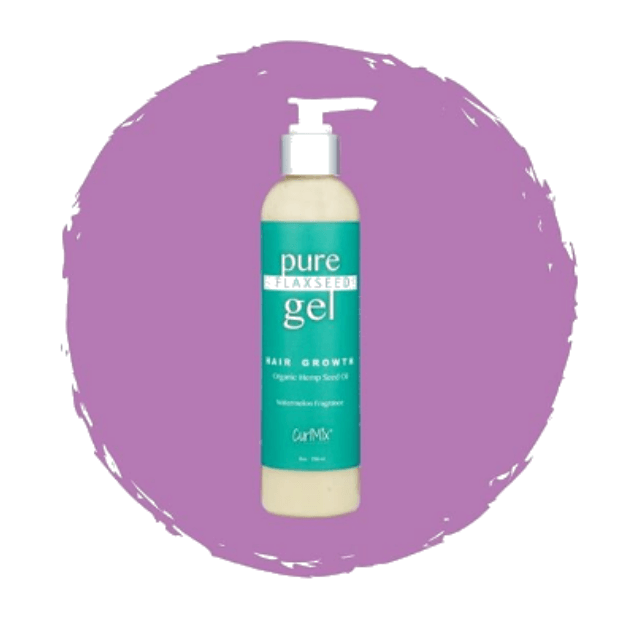 If you're a DIY lover you'll love this styling set of moisturiser and get to get the curls poppin' from CurMix.  The brand started as a Do-It-Yourself subscription box sending their subscribers the raw ingredients/materials and recipe to make fun and effective. Soon, clients started asking for their favourite DIY mixes to be turned into a product line and that how it all started. Inspiring, right!?
CurlMix's DIY signature flaxseed gel recipes are now done with the same simple ingredients but made to last longer in your shelf and not in your refrigerator. All natural. All good. For a few suggestions for a 1 product wash & go you can read this post.
This particular Wash & Go box set targets hair growth and comes with a moisturiser and gel, but you will also find box sets focusing on strength, repair and moisture.
Price: $47 (for UK  availability check Naturalistic Products)
#4|
CURLY HAIR LOUNGE
Deep Conditioning Guide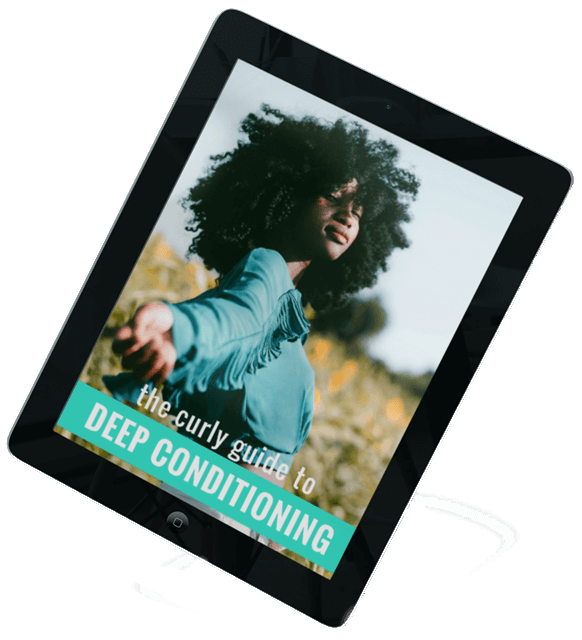 In my opinion, no wash day could be complete without a good deep conditioning session. Though you may see it as an optional hair care practice or do it on an as-needed basis, the truth is our hair is constantly being subjected to some form of hair damage be it the cold Winter weather, the burning Sumer sun, manipulation or washing our hair. Deep conditioning can be used as an important tool to make our hair more resilient to this sort of everyday damage and also to help our hair recover from more serious damage (e.g. bleaching, breakage, extreme dryness).
However, there is much confusion about the difference between mask/masque, deep conditioner and treatment; how to identify them and which one is better; which one will address problems with moisture, breakage or elasticity; how much protein your hair needs; how to achieve a proper moisture and protein balance and much more.  Lucky for you I address all these questions and more in the Curly Guide to Deep Conditioning. If you're planning on making 2019 a year of change in your hair routine and finally reaching your hair goals or you want to help a loved one reach their curly hair goals this is the perfect gift for it.
Get your digital guide with a 10% discount using code XMAS10 and access it anywhere and on the go, on your mobile, your tablet or your computer… or just print it. 😀 
Price: £12 (regular price)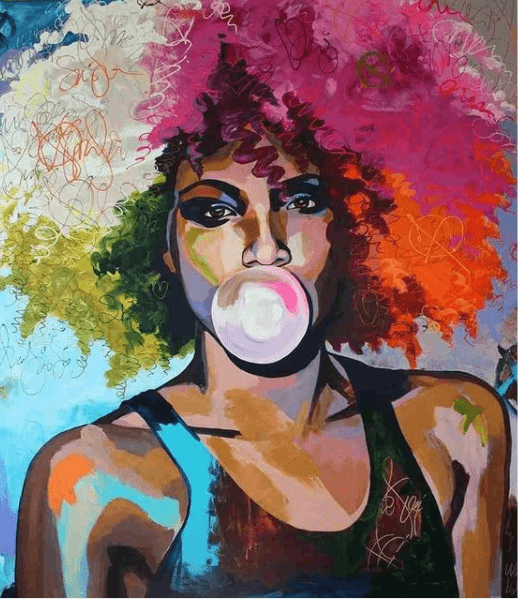 Life would be dull without art and this oil painting will certainly bring life to any room in a house. Not long ago, I saw this Bubble Gum Diva painting online from Melanin Inc., I did some digging and fell in love with several of their pieces. The prices are quite affordable and you can have your choice of oil paintings, shower curtains, bath mats, wall stickers, decals, wall mounts, sculptures all inspired by African culture.
Price: from £19.61 (oil painting).

Curly divas stick together and this Makeup Pouch from Pardon My Fro seems to say that. This pouch can be the perfect item to store your makeup goods, your bobby pins, elastic bands, toiletries, hair products and similar items. They come in a small and large size so they can hold quite a few things and you can choose from different designs.
Price : $20 (small size).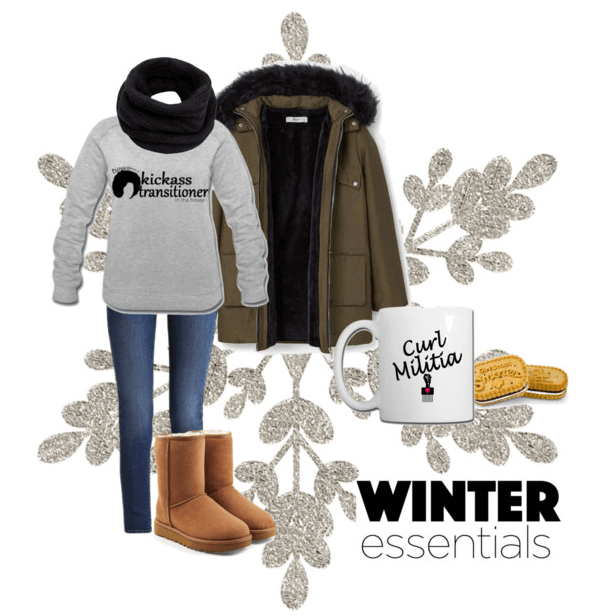 Winter can't be complete if you don't have a comfy sweater and a hot cup of tea or chocolate you can curl up on the couch and watch your favourite show under a blanket. If you're starting your transition to natural hair the 'Beware! Kickass Transitioner in Tha House' organic sweatshirt will be an excellent statement piece in your wardrobe. The perfect way to embrace your natural hair and let others know you're on a new hair journey.
If you're past this stage in your hair journey, don't worry, you can check the shop for t-shirts, tank tops, tote bags or mugs with different sayings such as 'Curl Militia', 'My Head, My Hair, My Rules', 'Curlicious' or 'Grow An Afro, I Dare You'.
Price: £32.99 (sweatshirt)/ £14.99 (mug)
#8|

REDBUBBLE

 
Natural Hair Stationary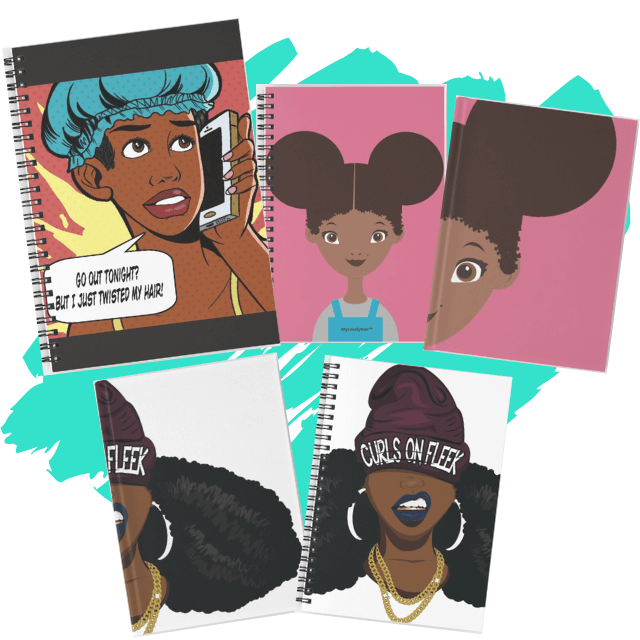 Perfect for school, work or to use a dairy or to record your recipes these notebooks are stylish and make a powerful statement. They're perfect for any curly girl, big or small! You can get one for yourself, your daughter, niece, friend or your mum. Choose your favourite design in a spiral notebook or hardcover journal with a selection of ruled, graph or blank pages.
At the time of writing this post, RedBubble is having a 15% Off discount when you buy any two notebooks/hardcover journals. Use them to take note of your hair journey, jot down your recipes, use it for college, draw…  If you decide to have a look of what other designs are available (there's a ton of them!) type 'natural hair' in the search box and limit results to 'stationary' and then select spiral notebook or hardcover journals in 'Product'.
Price:  £9.33 (spiral notebook)/£14 (Hardcover Journal)

Well, this list gifts couldn't be complete without an outfit, because no woman doesn't like to look pretty and elegant, especially during the holiday season. This Midi Dress from Grass-Fields is just one among a wide selection of beautiful pieces you can choose from. I particularly like this one, but there are shirt dresses, maxi dresses, kimono dresses, jumpsuits, skirts, trousers/jacket… I'm sure you'll find something you like. I think this will be the perfect gift to gift to yourself, but it can also be for your sister, friend or mother.
Price: £89.99
I hope these gift suggestions will help you finish all your Christmas shopping and everyone enjoys their presents (including you).
What would be your perfect gift?
Other Images: Taken from brands online addresses