A couple of months into your transitioning journey your determination to stay on the path will be tested. Oh, yes it will! I still remember when my edges wouldn't lay down. I mean, really! Come on,  this was one of the reasons why we relaxed our hair, wasn't it girls? Sometimes it's like your hair was plugged into a light socket. Beautiful picture, isn't? No way! I know we all want to light up a room wherever we go, but this is the kind of attention you don't want or need!
If you're going through this alone with no one to relate to and wondering "what am I going to do?" or "I don't want to give up now!". Please don't give up, try one of these edge control products. They will help you. On the other hand, if you have lots of support and a best friend to call, continue reading as you may want to try one these products. And please girls, whatever you do don't use those commercial hair gels with harmful alcohols or mineral oil in it. They will only make your hair dry and brittle. Be on the lookout for these products as they will help you tame those stubborn edges from framing your face the wrong way. Here are a few options for edge control products when transitioning to natural hair.
EDGE TAMERS
ORS Olive Oil Gel Edge Control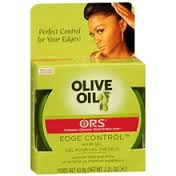 Good – It definitely controls your edges very well. Works well on wet or dry hair. It has olive oil and aloe vera juice which is always good for your hair. Spread it on your edges, smooth it with your hands, comb or brush and you are good to go.  This is a product that is quite affordable and does what it advertises.
Bad – It has a greasy paste-like consistency which I find hard to spread well making you use more product. Additionally, because it is a very small container (64g/2.25oz), you have to buy more product.
Curls Passion Fruit Control Paste – Raved by many on YouTube it seems especially good for type 4 hair. It has no sulphates, no silicones, no parabens and no mineral or petroleum oil.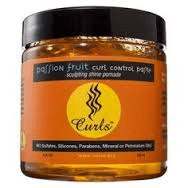 Good – The passion fruit oil gives this product a light fruit scent that is very pleasant. Its recipe contains mango and shea butter to nourish your hair  and many other good ingredients. It is easy to apply on the edges or length of your hair despite the sticky feel. It leaves no residue and can be used every day, leaves your hair shiny and holds even on windy days.
Bad –  It is a bit pricey for the amount of product (113g/4oz).
Eco Styler Moroccan Argan Oil Styling Gel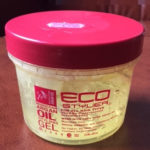 Good – It is a lightweight formula with a gel consistency. The Argan oil and vitamin E provide nourishment to the hair. It has no silicones and gives you UV protection. I find that I get best results when I use a satin scarf for a few minutes after application. Amazing price for the amount of product you get.
Bad – I experienced no flakes and no residue, but you can get it if used in conjunction with other products, it depends on the products you mix it with. Works best on dry/damp hair and the hold doesn't last all day especially if you like to keep your hands on your hair.
As I Am Smoothing Gel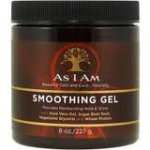 Good – Works well on damp hair and is best for type 3 hair. Also good to use for hairstyles (twists or braids). Has naturally derived ingredients such as beetroot, aloe vera and glycerine.
Bad -It doesn't provide much hold. It has a strange fragrance and is a little bit pricey for the amount of product (227g/8oz) you get. You might experience some flake depending on which products you use it with.
With so many products on the market, you will only know what is best for your hair if you try it. I prefer products that have fewer chemicals in them and more natural ingredients. For me, at the moment, the Curls Passion Fruit Control Paste and the Eco Styler Gel are the best. Follow the products' instructions for the desired outcome as you can get unwanted results if you don't.
Please let me know what product and/or technique you use to control your edges. Is it working or do you feel you need to change?