Growing up and ever since I could take care of my own hair I was always told to never use gel on my hair and I never did. I was under the impression my hair would fall off or get really damaged.  Also, I  only ever saw it on white people (boys mainly) who wanted stiff hairstyles and I was not looking for that. Black people were (and many still are) more into using grease.  Anyway, since I started my natural hair journey I love me some gel.
I can't tell you how much my opinion has changed when it comes to using gel on my hair. Generally speaking, I think gels have a bad reputation across the board. People have a general understanding that they can make the hair look good but too much can definitely wreck their hair.
Up until a few years ago, this assumption might have been true (with a few exceptions), but increasing consumer awareness to what good and bad ingredients are has forced the industry to come up with better formulations.
Know What's in Them
One of the best things I have learned has got into my natural hair journey hair is to get familiar with product ingredients: what they are, what they do, their purpose in a formulation… I  could say this easy, but I don't want to offend your intelligence. However, it's not impossible an anyone can do it.
You don't have to know all the ingredients out there, that would be madness even because an ingredient can have different denominations.  The good news is, once you start getting familiar with them you'll see that many are always popping up in formulations so you'll only need to do a little Google search on the new ones, I still do this and so do many of us who are more skilled in reading product's ingredient list. To get you started you can use these online dictionaries for cosmetic ingredients that I regularly use.
The Eco Styler Gel Indignation
Recently there's been a big debate surrounding Eco Styler gels and the less than good ingredients they have. This is a brand that has been around for quite a while and whose gels have probably been among the top 3 gels of many curlies. However, after much rave and glorification, these gels are now seen as 'persona non grata' and people are now risking them off their hair regimens and shaming them.
This 'new found information' in the natural hair community, is really not new. I have used Eco Styler gels and even have a jar in my bathroom and I know their formulations aren't the most nourishing for my hair but they're not the devil's spawn (have you taken a good look at what out there!). If people did their own research (ingredient wise) they would have known this. Besides, people seem to be outraged that the brand's audacity to use some ingredients, but not with the fact that people are 'advertising' the use of vaginal cream and Vicks VapoRub to grow their hairline back. Or the fact that some people cover their skin in makeup that probably the same ingredients or worse but are only worried about their hair… Bonkers!! There needs to be consistency here.
Anyhow, my two cents in this matter is that I believe Eco Styler gels still have a place in a hair regimen. They're not my go-to gel and I only use it in very specific situations, so far this year I only used it twice. If you need your curly hair tamed and set in position for a whole day it is a good choice. It won't let you down!
Use it for a special occasion like a wedding, an anniversary a job interview you need to nail… just don't make it your day-to-day gel.  This is how you can use it if you tried it, loved it but are now having mixed feelings. Still, if you're allergic to any ingredient or have/had an allergic reaction (itchiness, redness, etc), please don't use it. If you never tried it and don't want to, that's perfectly fine too.
Don't Settle
Another thing you don't have to settle for anymore is empty gels that offer nothing much than empty (synthetic) ingredients that promise to restrain your curls in place. Thank goodness product shave moved a long way from that.
Today's gels can offer great moisture and hold, you don't need to compromise.  Look for hydrating ingredients in your gels like aloe vera, glycerin, panthenol and for curl defining ingredients like marshmallow, flaxseed or carbomer just to name a few. You'll want a good balance of the two and for that, there's nothing better than to try a few gels and see what your hair likes. It will depend on your hair needs, texture and even climate.
Different Types Of Gel
Having said all of this I must say that what I knew to be gels – gelly-like translucent and sticky formulations – have changed a lot these days. Sure, you can still find the 'good old' looking gel, but today's gels vary a lot. You can find your regular gels, curling custard gellies, edge taming gels, whipped butter gels, curling gel soufflés… I know, it can be confusing. 🙁 😉
It can be hard to choose what you want or need, but a good rule to follow is to first use the product for what it claims to be for and follow instructions. Some will be more appropriate for twist and braid hairstyles, others for wash and go's and some even claim to elongate your curls while keeping them clumped together.
Gels are generally used for wash and go's (W&G), curling custards can be used for W&Gs, twist, braids, whipped butter gels
And still, despite all the indications some people will still get great results using the product for a different purpose than it was designed to do (I have!). Yep, there's the experimentation talk you probably keep hearing about, but it's the truth. Hair is unique to everyone, it has different characteristics and needs and sometimes a product will work better when used in conjunction with one product and not another or work better just alone.
Also depending on its formulation (e.g quantity of butter and oils), you know it will work also well for braids or twists. In the end, you have to experiment a little, but first always use it for what it says it's for. 😉
My Favourite Gels 
Having said all this, I do wanna share with your some of my favourite gels. 2018 was the year I promised myself to master my wash and go's after having done so with my braid outs. So I put myself out there and I can finally say that I found 3 gels I particularly like and would recommend.
Camille Rose Naturals Curl Maker
Ingredients:

 Deionized water, pectin, coco nucifera (coconut ) oil, aloe barbadensis leaf juice, panthenol, ricinus communis (castor) seed oil, althaea officinalis (marshmallow) root extract, agave americana leaf extract, equisetum arvense (horsetail) extract, urtica dioica (nettle) leaf extract, corn starch, xanthan gum, chondrus (seaweed) crispus, polysorbate 20, tocopheryl acetate (vitamin E), cyanocobalamin (vitamin b-12), phenoxyethanol (optiphen nd) caprylyl glycol, fragrance (parfum) and LOVE!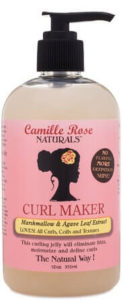 I found this gel about three years ago and from the start I loved it! At the time I was still transitioning and didn't do W&Gs, but it was a perfect option for tamed edges and sleek buns. I never used my Eco Styler gel much and after discovering Curl Maker my little jar is forgotten at the back of the shelf waiting for a special occasion to be used.
As far as using Curl Maker for a wash and go, I have found that it is perfect for achieving soft curls and great volume on my first day. Know how first-day hair always looks too tamed and the second and third day always give you more volume?! This is what you can achieve with this gel if, like me, you have medium-coarse hair with low porosity. For fine hair, I believe you'de get a more tamed/defined look. Get it on Amazon.
Koils By Nature Herbal Curls Defining Gel
Ingredients: Aqua (Distilled Water) Infused with *Organic Calendula Officinalis (Calendula Flower) and *Organic Urtica Dioica (Nettle Leaf), Aloe Barbadensis (Aloe Vera Leaf Juice), Potassium Sorbate, Lactobacillus Ferment (Leucidal Liquid), Sodium Carbomer (Pre-neutralized Carbomer), Butyrospermum Parkii (Shea Oil), Macadamia Integrifollia (Macadamia Nut Oil), Vitis Vinifera (Grapeseed Oil), Guar Hydroxypropyltrimonium Chloride (Guarsilk), *Organic Althaea Officinalis  (Marshmellow Root Powder), *Organic Ulmus Rubra (Slippery Elm Bark Powder), Mangifera Indica (Mango Alphonso Power Fruit Extract), Ricinus Communis (Jamaican Black Castor Seed Oil), Olea Europaea (Olive Oil), *Organic Moringa Oleifera (Moringa Leaf Powder), Salix Nigra (Willows Bark Extract), Citric Acid, *Organic Essential Oil
Out of the three gels I am sharing here, Koil's gel is the one I have tried the least but in all fairness, it's the last one I discovered and added to my list of favourites.  I still have a bit of experimentation to do but from what I found so far I really like it.  I tried the fragrance-free version, but I have to say it still had some sort of scent that my kids and I didn't like. Next time I will order the peppermint scented gel. Oh, I also tried in for a braid out and it worked perfectly too. You can buy it at BeautybyZara (no commission).
Uncle Funky's Daughter Curly Magic
Ingredients:

 Organic Aloe Barbadensis Leaf (Aloe Vera) Extract Juice, Aqueous – Infused Althaea Officinalis (Marshmallow) Extract, Chamomilla Recutita (Chamomile) Flower Extract, Urtica Dioica (Nettle) Extract, Equisetum Arvense (Horsetail) Extract, Tocopherol (Vitamin E), Agave Tequilana (Agave Nectar) Extract, Citric Acid, Potassium Sorbate, Natural Fragrance.

WOW! Can I just say, I LOVE this gel? It's amazing. If you follow me on Instagram you probably know this already. From the first time I tried it, early this year when I was giving my first steps in mastering my W&G's, to this day it has never let me down. It leaves my curls super defined, my W&G's last at least 4 days (sometimes more, depending on my exercise schedule and intensity) and they gain volume as the days past. It has definitely been my go-to gel lately and it leaves my curls super moisturised, as all other gels in this list do by the way. You only need to confirm this by looking at the list of ingredients. You can buy it on Amazon.
What is your favourite gel and what does it do for your curls?
Featured Image: by Terricks Noah at Unsplash.