Black Friday is just this weekend and although it started out as an American tradition it has pretty much been adopted worldwide. For many, this long frenzy weekend of scavaging for crazy discounts turns them into sniffer dogs searching for the best deals possible on anything and everything. For others, like me, it's more about being selective and buying that expensive curly hair item that is now within the reach of our fingers (i.e. wallet). I've been doing a little Black Friday cruizing online to save you time and I found a few deals your curly hair will benefit from.
As is tradition, Black Friday is the day after Thanksgiving, an American tradition which always falls on the fourth Thursday of November. This year Black Friday will is on the 23rd of November, but the special day extends into a weekend-long shopping spree and ends on (Cyber) Monday the 27th.
Plenty of time and opportunities to do some targeted shopping, right?!
Big Savings Or Not?!
Though the thought of this upcoming weekend may have you all excited, rubbing your hands at the thought of 50% and 70% off deals, the truth is some stores will only offer a 20% discount and sometimes even less.
Still, there is no need to feel disappointed. The key is in buying strategically. To me, Black Friday is a day to grab those items that (1) are rarely on sale or don't have any kind of discount and (2) you would never be able to afford if it wasn't for this day, because even if the discount doesn't look like much a 15% discount on a £300 item is still £45 saving, which can be used to buy something else. 😉 (Please, I'm not saying for you to go out there and spend £300. You know about your money, you know how much you can spend. Have a budget and don't deviate from it!!)
Shopping Tips To Save Time!
These days big retailers like Amazon tend to reveal their Black Friday deals a week before which is fantastic because you can start comparing prices and see where your biggest savings can be made. Here are a few things I normally do when buying anything, with discount or not.
Open a Google browser and type in the name your desired item plus the word 'Buy' and I also like to type 'UK' (type the name of the country you're buying from).
Compare prices for all the items you're interested in the stores already offering Black Friday deals.
Bookmark your favourite store and/or those that normally offer good discounts.
Once you find a deal worth taking hit the cart button but don't buy yet! You want to wait until other stores put their sales up so you can compare prices (unless, of course, the deal is so good it won't get any better! 😉 ). Just save your item in the shopping cart, when the Big Day comes your item will still be there. Virtually all online shops place cookies on your computer or mobile, this is what saves items in an abandoned cart the next time you visit the website or suggests products based on your activity on the website. Having the item in the cart will save you time from having to look for it on the day and possibly avoid an 'out of stock' situation with thousands of people wanting to buy the same thing.
If a store you like is not revealing their sales early on just save the item you want a deal for in the cart and when Friday comes, check to see if it has any discount (refresh page).
It's worth visiting price comparison websites like pricespy.co.uk, but don't rely solely on these.
Okay, so now that you have all my tips, let's go check what sales are up for grabs.
---
BLACK FRIDAY

DEALS FOR CURLY HAIR
---
THE CURLY GUIDE TO DEEP CONDITIONING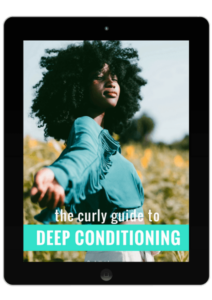 Well… I had to start with my very own offer to you and since I'm all about bringing you clarity in your hair journey, why not take this opportunity, invest in your hair education and master your deep conditioning sessions with the Curly Guide To Deep Conditioning (digital guide)? 😀  As you may know, if you've been around for a while, this is a hair care practice that has been very important in my hair journey and has been proven to be instrumental in my hair health.
Know everything you need to know your hair treatments from protein, hair damage, different hair treatments, protein sensitivity and more. Get guidance on how to identify your hair needs and a list of products to get you started. This Black Friday, you can brag your 25% OFF today until November 25th use code BLKFRIDAY25.
BUY IT: Curly Hair Lounge £9 (was £12)
REVLON PERFECT HEAT PERFECTIONIST 2 in 1 DRYER
Marketed as a hairdryer and styler, this hair drying brush is said to help you achieve a smooth blow out with less heat-related damage. It also helps with detangling and is light enough to not get your arm tired. You can check Naptural85's review below.
BUY IT: Amazon £22.49 (was £49.99)
PHILIPS MOISTURE PROTECT HAIR STRAIGHTENER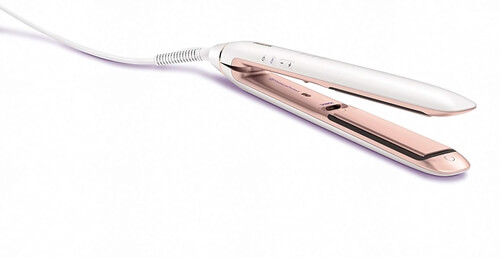 At some point in our curly hair lives, most of us will straighten our hair even if it's just to change looks once a year, check hair length or take a break from shrinkage. Either way, this ceramic flat iron from Philips will help you do the job. It has floating ceramic plates to reduce the risk of hair breakage and to allow constant temperature for a faster job with fewer strokes. The MoistureProtect sensor regulates and adjusts the temperature to protect the hair's natural hydration. It heats up in 15-seconds and has a 2-metre long cable which is ALWAYS handy and appreciated.
BUY IT:  Amazon £66.66 (was £109.99). Alternatively, get Tony & Guy's Professional Wide Plate Straightener for  £26.99 (was £80)
PHILIPS MOISTURE PROTECT HAIRDRYER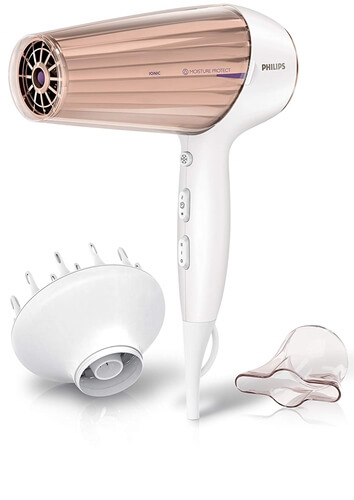 Yep, this hairdryer is part of Philips' MoistureProtect line of hair tools and, similarly to the flat iron, it will preserve your hair's natural moisture with its intelligent sensor. Expect frizz-free, shiny hair with ionic conditioning and six heat and speed settings that will give control of everything. And if nothing else convinces you, just look at how stylish and even elegant this line from Philips is.
BUY IT: Amazon £66.66 (was £99.99)
THERMAL HAIR CARE – Hot Head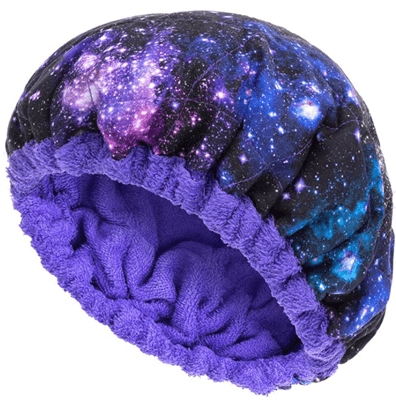 Get your wash day upgraded with this microwavable deep conditioning heat cap. It will shorten your hair treatments and you can choose from a variety of prints for you and your kid. Sales start Friday with a 25% discount using code BF2018 + free shipping on orders over $50 (US only).
BUY IT: Thermal Hair Care $22.50 (was $29.95)
NATURALL CLUB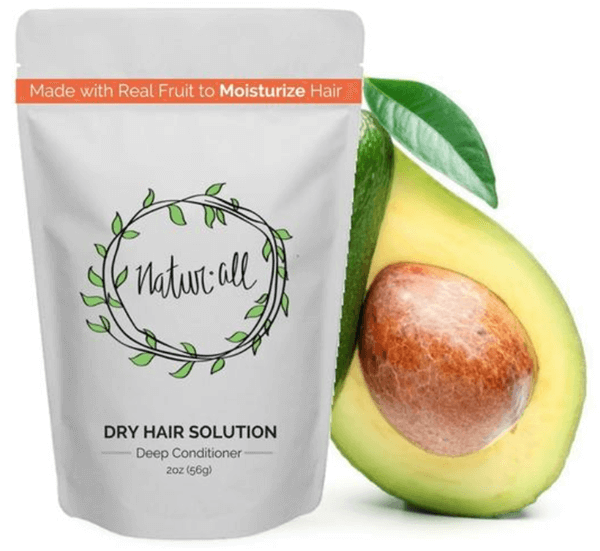 NaturAll Club is a relatively new brand that launched in 2016 by Muhga Eltigani who decided to create natural and safe products that didn't compromise performance and results and didn't poison her body with toxic chemicals. Avocado is the signature ingredient in all products and deep conditioners were the first products launched by the brand.
NaturAll Club has announced 30% OFF the entire store bringing the best sales of the year for this week on Black Friday. Make sure you use the code BLACKFRIDAY18 and choose from their shampoo, conditioner and deep conditioners (Fresh Avocado Deep Conditioner above) or the solution box and deep conditioner bundle. All "natural, safe, and [with] nontoxic ingredients to make products that nourish the hair and body, while setting the highest standard of performance on the market".
BUY IT: NaturAll Club from $9.50 (regular price, check sale!)
EARTHTONES NATURALS
If you've been following me for a while you know I am a sucker for brands whose product ingredients are all or mainly made with natural or naturally derived and have a short but effective ingredient list. As far as I am concerned, Earthtone Naturals delivers on the first bit and judging by the great reviews it has product performance doesn't seem to be a problem. Also, the owner is a naturopathic doctor and certified trichologist, so you know you may be in for a good treat! 😉
The brand has announced a Black Friday sale from the 23rd to the 25 of November and the product I am most eager to try from this Canadian brand is the Curl Define Curl Enhancing Gelly. It's perfect for wash and gos giving you frizz-free, defined curls with a no-crunch firm holding and lots of moisture (just check the ingredients!!). Grab 30% OFF with a minimum purchase of $75 (before taxes), you can buy instore or online.
BUY IT: Earthtones Naturals from $13 (regular price, check sale!)
TREPADORA CURL THERAPY

Trepadora is a brand I only discovered recently at the recommendation of a professional and for me, what makes it so perfect is that is a British brand (Yaayyy!!), it's cruelty-free and it's also vegan, which for a new vegan like me it is sooo good to know.  Enjoy 20% OFF + a FREE 100ml Papaya Slip Taming Potion, just use coupon code CURLS18. Discounts end on Cyber Monday (26th).
Though there are many products from this brand I would like to try, I am keeping my eyes on the Papaya Slip Taming Potion which can be bought in 100ml, 200ml or 520ml bottles.  One great thing about Trepadora's products is the airless packaging which protects the integrity of bio-active ingredients and prevents its oxidation unlike normal jars and clear bottles. Got you curious didn't I?! Just admit it.  😉
BUY IT: Trepadora Curl Therapy £18 (regular price, check sale!)
The next few brands may not all be hair care or hair related but will certainly help elevate your Queen vide to another level.
GRASS-FIELDS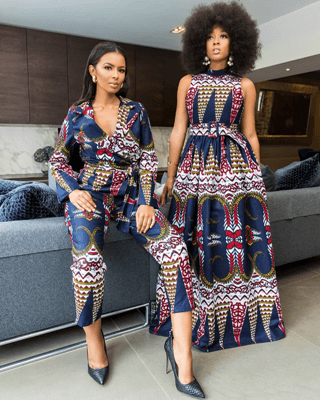 Grass-fields offers sophisticated and elegant clothing made with African inspired print for women, men and children. All clothes are made in the UK and Cameron and being of African descent, I truly love their clothing and how colourful it is. Each piece just seems to embrace our body and complement it. Sales at Grass-Fields start on the 23rd, make sure you check them out!
BUY IT: Grass-Fields from £24.99 (regular price, check sale!)
THE WRAP LIFE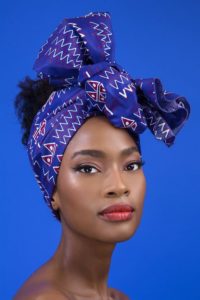 I've mentioned this company a few times here in the blog and their head wraps, turbanettes and headbands are amazing. Luckily, their Black Friday starts this Wednesday (tomorrow) with discounts of up to 30%.
BUY IT: The Wrap Life from $12.43 (regular price, check sale!)
Other brands to get excited about that are also announcing Black Friday Savings are:
SOULTANICALS – another brand that has a special place in my heart and whose products I love. Pick any! They are now giving us

50% OFF

and prices are already adjusted, no code is needed.
CAMILLE ROSE NATURALS – All natural, All vegan. All Good! Save

30% OFF

your total order. Offer ends Sunday use code CRFRiday.
NOUGHTY HAIR CARE – A product line I haven't tried but promises to have formulations that are 97% natural. The sale is already on with a price drop of 50%  and prices as low as £3.49.
BRIOGEO – A well-known hair care brand that is offering you a 20% OFF  sitewide, just use the code HOLIDAY.
TGIN – All hair products are

$9.99

from the 23-25 November. Use the code

BLACK18

EBONI CURLS – Get your bonnets, pillowcases and more this week. Use code BLKFRIDAY20 and get

20% OFF

 (US only).
ROYAL HOUSE OF WRAPS – another go-to shop for your headwraps. Use code THREE from November 20th!
KINKY CURLY YAKI – Experiment with protective hairstyles and experience different hair textures or haircuts with

weaves

,

wigs

or

braids

. Get 30% OFF of

everything

.
GRACE ELEYAE – satin lined caps, scrunchies, turbans and more to keep your hair moisturised. They now have a pre-Black Friday sale store-wide of 30% OFF.
LOZA TAM – African print inspired satin bonnets, headbands, head wraps and more with

UP TO

 50% OFF across the all products, no code required.
BREEZY TEE – If you're looking for a hair towel that doesn't snag your hair or takes its moisture this towel is great. I like it better than the microfiber and they also have satin lined beanies and scarves. They're only

offering free delivery

, but depending on how much you spend you get a free item (eg. spend $50 and get a T-shirt Hair Towel Wrap).
BEAUTYBYZARA – those in the UK will know this shop as it has a vast number of hair products if you want to buy online or in-shop. The shop is offering exclusive online discounts for just one day (Friday the 23rd).  Discounts go from 10% to 30% depending on how much you spend. Visit their website to find out how much you can save and to have access to the promo codes.
BOUCLEME – a British hair care brand with great products too. They're offering

40% OFF

their gift sets (20% already applied on retail price + 20% applied at checkout with code sshh20). Offer ends Monday.
UNLCE FUNKY'S DAUGHTER – One of my favourite and Must-Have/Go-To brand it is now offering 30% OFF Sitewide + free shipping (orders over $50). Go get them now!!!
CURLS & CO – if you always wanted to have your own hair steamer here is your chance. This will make your deep conditioning sessions sooo much more effective and with The Curly Guide to Deep Conditioning you'll be master at it in no time! 😀 However, you have to be quick, The Curls & Co are only offering a 20% OFF of all purchases for

Friday only (code BLACK18)

. So be quick.
ENTWINE – another hair care brand with vegan products. Try the Creme Jelly Setter for your braids and twists, they're offering 50% OFF on

EVERYTHING

. Use code BIGBLACK18.
BIG HAIR – another British hair care brand I mentioned her in the blog before, if you BUY ONE you

GET ONE 50% OFF.

MIELLE ORGANICS – they are offering 50% OFF on their Black Friday sale. No code is needed
I will try to update and add more brands to the list as soon as brands announce their discounts. In the meantime, know of any other black Friday deal I should include in this Black Friday Deals list?? If so, leave a comment below. 😀
What are you planning to buy this

Black Friday

and why?
NOTE: Product images taken from brands websites or Instagram profiles. I am an Amazon affiliate and I get a small commision in case you purchase something.