Small quiz question. What is the one essential curly hair accessory our hair needs when it's bedtime?… If you answered a satin bonnet you're not wrong, but today I'll be talking about the satin pillowcase. Why? Because I found The satin pillowcase you need to have to keep your curly hair healthy and moisturised for longer. I'm telling you, this "simple" item will revolutionise your natural hair care and how you sleep at night.
When I heard about this pillowcase I thought "No way!! How can this moisturise my hair?!", but as I got to understand how it works I immediately said: "I have to share this on the blog".
But before I tell you all about the features of this satin pillowcase I want you to know that this is not a sponsored blog post nor will I get any commission from any purchase you make. This is just me sharing the love. Clear?! Glad we got that out of the way.
Cotton vs Satin Pillowcase
Up until the time I went natural, a pillowcase was just that – a pillowcase. A cotton pillowcase was the usual choice, but any would do, I wasn't fussy about it. However, cotton pillowcases are a big No-No if you want to keep your hair moisture.
Don't get me wrong, cotton is an excellent soft, natural fibre from wich you can make clothing, footwear or linen that is perfect for our skin. However, when it comes to our hair it can act against it. Because it is a very absorbent material, any pillowcase (or hair towel) made out of cotton will suck out any moisture your hair has, which makes our naturally dry hair even drier.
The solution is to use satin pillowcases as they avoid this problem. Moreover, satin is a fabric that is smoother than cotton and because of it, it won't create any friction, pull, trap and possibly break your curly tresses.
Do you get why you need a satin pillowcase? Great, now let's talk about this revolutionary satin pillowcase, or should I say hair treatment?
Lynel Nano Frizz Off Treatment Pillowcase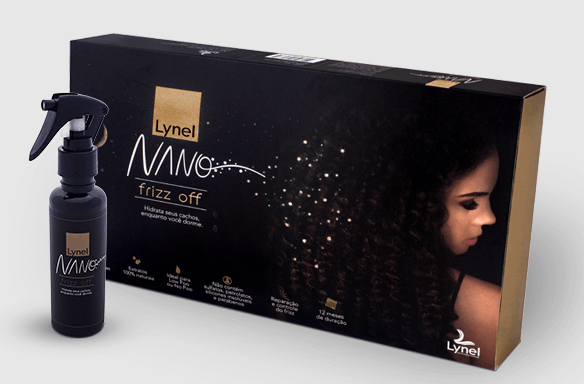 So what does this pillowcase have that is so special, you may wonder.
Well, to start with this is a product developed in Brazil that comes in a beautiful box, carefully wrapped in paper that is only available in two colours, silver and gold. However, what makes this satin pillowcase really special is the fibre finish it has on the inside and the spray bottle treatment it has to be used with. In conjunction, both will keep your curls moisturised for longer.
How does this work exactly? I'm so glad you asked.
The Lynel pillowcase has a zipper on the inside that you open to turn the inside out, once you do this the especially developed fibre will be exposed (this is to protect the fibre and not waste any product). You then use the treatment spray on the fibre, rearrange the pillowcase back to normal and close the zipper. Your satin pillowcase is ready to use.
Now, when you go to bed your hair will be moisturised, all while you sleep! But the best thing about this is that you don't need to use the spray every night. It will release its natural formula over time naturally.
This is super cool, right?! But I'll restrain my enthusiasm since I can guess your many questions bubbling up.
But Monica won't the spray evaporate? Won't it just wet the pillowcase and have little benefits to my curls? How can it moisturise my hair over days? How come I don't need to use the spray every night? How long will it last? What about washing it?…
Well, I had these same questions when I heard about this pillowcase, so I'll do by best to clarify them for you.
Your Questions Answered
Sure, the concept behind the Lynel Frizz Off Treatment Pillowcase is innovative, but making it work is another thing. A pillowcase that you spray on and will moisturise your hair throughout days without the need to do it every day??? Sounds like a magical thing, right?! Well, no.
The secret is the technology used behind all this. In this case, it's called NanoTechnology.  The spray used in this treatment pillowcase has a formula that is filled with natural ingredients trapped in micrometric capsules that are released through friction.
Still confused? This is the technology behind it.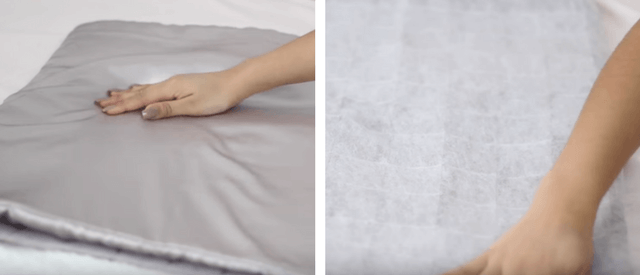 Using my best possible explanation skills, imagine the ingredients in the formula are all divided into a million particles and each 1-part of an ingredient is put inside a tiny capsule invisible to the eye. The liquid in the spray bottle is filled with millions of these capsules that are triggered to released their moisturising ingredients when you rub your head against the satin pillowcase.
The special fibre holding the capsules will facilitate this exchange and the friction will slowly release the blend of ingredients over time which will continuously moisturise your hair from the inside out while you catch your Z's. Thus, why you don't need to use the spray every day.
How to use it
It's definitely a good surprise the spray doesn't need to be used on daily base. In fact, the spray only needs to be applied every 6 weeks and the pillowcase already comes with the first application. Developers behind this pillowcase state the spray bottle will last one year.
To use it correctly you need to expose the fibre inside by opening the zipper, spray uniformly on the fibre for 20 times exactly, rearrange the pillowcase and cover your pillow.
How to care for it
I'm guessing you're now thinking you can't go on using a pillowcase for 6 weeks without washing it. No,  that would feel weird, to say the least. I'm with you, I can imagine all sorts of itchy business going on. 😉
Good thing they thought of this and created a protective environment for the fibre with a zipper, this way you can wash the pillowcase when you want to and not waste any of the tiny capsules. But there are a few things to pay attention to. Although you can wash it every week with your bed linen or separately in your washing machine, you can't:
Wash it with hot water. 40º C is the highest temperature you can go for.
Iron it or use any vapour treatment.
Rub it. Use a soft program for your washing machine.
Use any cleaning product that has chlorine.
Use any stain solvents
Dry clean
Use drying machine.
Why You May Want It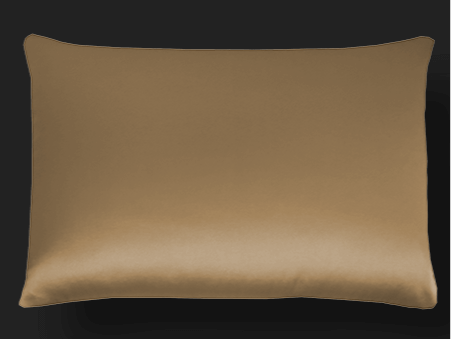 I guess it's a no brainer why you may want to have this satin pillowcase, after all, it moisturises your hair while you're sleeping. Plus,  if you don't like your look in a satin bonnet this pillowcase can be the answer you're looking for. It not only doesn't retain your hair's natural moisture, but it actually adds the much-needed moisture our curly hair craves for.
For 75% of women using this satin pillowcase, research done by the brand has shown increased hair moisture by the 5th day. The hair will be softer, shinier and hydrated and over 70% of women experienced less frizz. But it's not just the brand's word you have, there are YouTube bloggers claiming it too (if you understand Portuguese you can watch Rayza Nicacio's review or press for subtitles on the wheel icon).
Here's a rundown of the benefits to your hair:
Another important thing to mention about this pillowcase is the fact that only one side of it is made out of satin. Why? Because satin pillowcases tend to slip from under our head while we sleep, so with this satin pillowcase the side stays in contact with the mattress has a fabric with a special stitching to help prevent this from happening.
Still, despite all its features you may not want to purchase this item.
Why You May Dismiss This Product
Let's be honest, in order to have healthy, moisturised naturally curly hair you don't need to have this satin pillow case. You can do that if you follow a hair regimen that is tailored to your hair's needs and your life routines.
Moreover, although this pillowcase does look like a wonderful addition to one's hair accessory items, you'd need to buy the whole set again once the spray ends since the website doesn't offer the possibility to buy the spray separately. But this can soon change since this is a brand new item in the market. Anyway, just buying the spray represents an annual expense you wouldn't have with a simple satin pillowcase.
Finally, if you're a forgetful person and you don't remember to reapply the spray every 6 weeks you will be missing on the whole purpose of this Lynel pillowcase, which is to have better-moisturised curls.
However, the brand offers a thirty-day money back guarantee, if you don't feel your hair with less frizz and better moisturised you are free to return the product and get your money back.
Price & Purchase
If the Lynel Nano Frizz Off Treatment Pillowcase is something you may be interested in having I'm afraid I have bad news for you. As I said in the beginning of this blog post, this is a Brazillian product and at the moment they don't offer international delivery.
Therefore, unless you happen to go there or know someone who can buy and ship it to you, we're all gonna have to wait for this product to reach our "backyard". Until then, stay alert! Keep your ears and eyes open, it can happen sooner than you think.
The retail price for this satin pillowcase is around  62USD/50GBP/59 Euros, but at the moment, there is a discount running. If you want to have a peek at the product and watch a few demonstration videos you can check the website here.
Would you buy this moisturising pillowcase? Why?