What if I told you there is a hair treatment on the market that is able to give you frizz free, easier to manage and increasingly hydrated curly hair? Better yet, what if I told you these results can last up to 10 weeks? At the very least, you'd want to know more about it, right? Ok, so have you heard of hair botox treatments and are they all right for curly hair?
Apparently, hair botox treatments are old news and it seems I've been living in a cage for the last 6 years or so.
Hair Botox Is Really A Thing
Recently, I had a comment on the blog wich mentioned this treatment and the veil was lifted for me (yeah, I don't know everything, but I make sure I'm well informed once something is brought to my attention). Wow, hair botox like, in botox for wrinkles. In my defence, this is a treatment that was initially exclusive to hair salons and was later on made available for house use.
L'Oreal is the pioneer brand in this arena and their treatment, L'Oreal Professional Serie Expert Fiberceutic,  has been around since circa 2010. However, it only started gaining traction later as other brands joined in on the bandwagon.
In the natural hair community, botox for hair treatments seems to have only started making waves about 2-3 years ago when I was way into my hair journey, which by the way was propelled by the disastrous results of a keratin treatment that literally ruined my hair (on top of all the "long-term hair relaxer addiction" I had, of course).
So yeah, I wanted nothing to do with hair professionals and treatments that promised mind-blowing results. I was only focused on natural hair brands that understood the nature of my curly hair. So yeah, botox for hair totally skipped my radar.
What Is Hair Botox 
Much like the botox in the beauty industry, that promises to erase your wrinkles away thus temporarily postponing the natural progression of life, hair botox treatments promise to regenerate hair damage,  make it easier to manage, smoother, shinier and with less or no frizz. You know, it promises to smooth or get rid of all the imperfections, hence the name hair botox.
However, the name seems to have more to do with the psychological effect the use of the word botox has when paired with hair treatments since we live in a society obsessed with getting younger and prettier. Marketing tactics for sure!
It's easy to get to this conclusion when the main purpose of this treatment, much like a protein treatment, is to strengthen the structure of the hair from inside out, making it stronger and thicker, filling in gaps and regenerating damage. Yet, the aesthetics benefits of this treatment appear to be the tagline of the product.
How Does It Work
This treatment is made out of a potent mix of key ingredients to give needed hair some CPR. Brands will have their own secret ingredients and formulas, but your hair botox mix will have ingredients such as collagen, protein, amino acids, antioxidants, vitamins, hyaluronic acid, nano keratin… you get the point. This product is pulling all the big guns here!
The hair botox treatment comes in the form of ampoules or serums and the former are said to be more effective. Why? because it uses nanotechnology (very trendy now!) that breaks things into very tiny particles, so tiny they can easily penetrate through the hair's cuticle layers (yes, even your low porosity hair. They are the size of one billionth of a metre).
Step by Step
Preferably, this product should be applied by a professional, but it can also be done by you at home. In general terms, the product is applied on washed hair that has been clarified (remove build up), the hair botox treatment is then applied in small sections and left on for a few minutes. After this, and to finish the treatment, heat is applied (flat iron) to seal in the product in (some brands require a hair rinse before this).
A sulphate-free shampoo should be used to extend the effects of the treatment which is said to last somewhere along 10 weeks. Here is a link to Tahe Magic BX treatment video and here is a video for L'Oreal's botox treatment.
Is it right for you?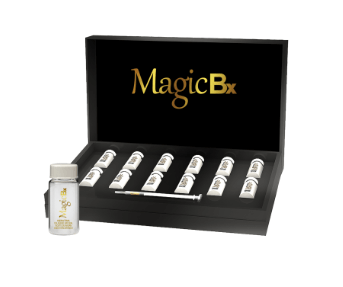 Just to be clear, this treatment is much more intense than your regular protein treatment (yes, even the Aphogee) so you need to be sure your hair needs it. Otherwise, you may find what "hair armageddon " means, some people have really complained about it. This hair treatment is only meant for very damaged hair with split ends, people that regularly colour their hair or use heat styling tools frequently – which I am guessing is not your case if you're on a journey to healthy natural hair).
Yes, it is a treatment that can be used for every hair type, even naturally curly hair. However, if you are on your natural hair journey and don't engage in damaging behaviours such as the ones I mentioned previously, you most probably don't need this treatment.
Be Cautious.
Furthermore, from reading instructions for use, this treatment seems to have chemical ingredients that will permanently alter your hair structure, meaning make you lose your curls even though results are said to last around 10 weeks (remember the keratin treatments? It was I completely blew my hair). I know this may sound alarmist, but when it comes to my curls I'm super protective and I know you are too. 😉
A hair botox treatment I read required a well-ventilated room because of strong fumes (maybe from formaldehyde) and another cautioned users to stay away from ignitions sources. To me, this rings alarm bells. Plus, the use of a flat iron to seal in the product resembles keratin treatments that will definitely alter the shape and structure of curly hair.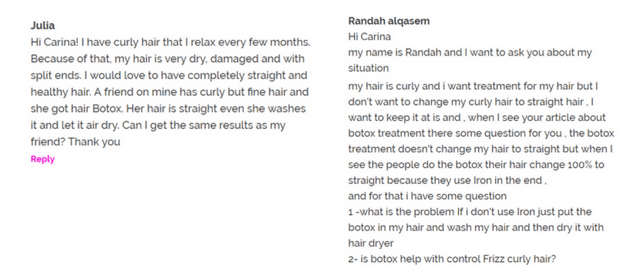 Although some say hair botox do not change the shape of hair because they are natural, people have the opposite effect and have seen their curly hair become straight permanently. My advice, if you really want to use this treatment, is for you to be cautious, very cautious. Make sure you know what ingredients are in the product you buy.
If you've used hair botox treatments on your curly hair please share your experience here on the blog, leave a comment. Even though your experience is unique since all hairs have different "hairprints", I'd love to know how it went for you and maybe we can help other readers.
Have you used hair botox treatments or would you? Why?