Do you get tired of wearing your hair the same way day in and day out? Do you want to spice it up a bit? Why not!? The sun is out and temperatures are higher, and for most of us this makes us feel happier, more cheerful, outgoing and ready to try a new hair cut or colour. But if you're not ready for this, or you don't want to try anything so permanent, then it's time to leave your comfort zone and use a few cute hair accessories for your natural hair and have fun with them.
Although I am writing this article to give you some fun ideas to style your hair with some accessories, I do have some ulterior motives as well.  This post is my own attempt to pull myself out of the same cycle of hairstyles – braids, twists, twists outs, braid outs, low/high bun, low/high ponytail and occasionally flat twists. No, I never do a wash & go because I don't like the look of two textures on my transitioning hair. Nevertheless, I feel like I've taken a trip to the "Land of Hair Boredom" and need to be rescued. So this post is my attempt.
FUNKY HEADBAND
---
Boy, these headbands are very cute and versatile.  I used them when I was younger and it didn't occur to me to wear them like this. You can use them on short hair, long hair and even with your protective styles on.  You will find them virtually everywhere in different colours and patterns. I particularly like the side swept style, you show off a bit of neck and it looks very feminine. I can see myself carrying this look with a long summer dress and some flat sandals, or in my case wedge sandals since I'm small. What do you think of Natural Hair Daily's style?

How to achieve it: Rub some vegetable oil on your hands and apply it on your hair focusing on the ends (only if your hair needs it). Get your headband and put over your head and leave it around your neck. Gently start smoothing your hair to where you want it to lay, arrange the widest part of the headband to the opposite side and gently pull it up. Make sure you open the fabric to cover the back and side of your head, just like in the picture above. If your hair is a few days old and a somewhat frizzy spritz some water, apply some moisturiser and a bit of vegetable oil to give it some new life.
GIRLY FLORALS
---
I'm not a floral kind of girl, in fact, I am not the girly kind of girl who is "over the top feminine". Nothing wrong with this, but I just don't have the time and patience to fake (for me it would be faking it!) this style and keep it up. It's too much hassle. I like simple, easy and quick! However, I do have to say that Chime Edwards made me consider including a bit more femininity into my hairstyles. Do you agree with me?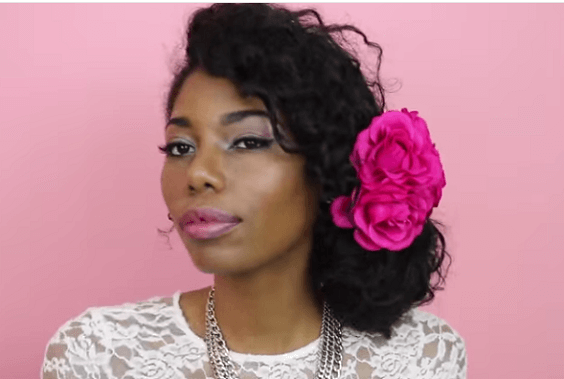 How to achieve it: Rub some vegetable oil on your hands and apply it on your hair focusing on the ends (only if your hair needs it). Get a hair band and start arranging your hair to the side, pull your hair halfway over the elastic and leaving/tucking your ends in and away from sight. Arrange the front section of your hair and let it fall a bit over your forehead into "bang". Now get a hair elastic with flowers on it and place over your side part without making it too tight. We want an easy laid back look, not a very sophisticated one.
CARF – CHIC PIRATE STYLE
---
If you have a few scarfs lying around the house put them to some good use. If, not buy some, or borrow from your mom's or grandma's.  I admit I'll have to let go of visions of my wearing a satin scarf to protect her roller set hair from the blow dryer, and you should too. Those days are gone, and there are plenty of different ways you can wear them now. Your imagination is the limit. I am liking Naptural85's Chic Pirate style as you can show it off with your protective style if you like and still look cute. Plus, you will also give your hair some protection from the sun.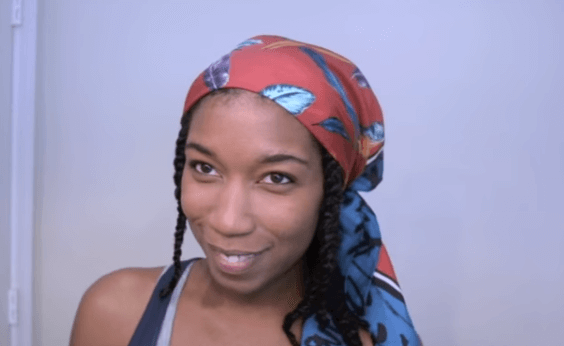 How to achieve it: Fold a square satin/silk scarf into a triangle, place the widest part over your head, tie it at the back towards the side and underneath the scarf, and tie it again on top of the scarf to secure it. Pull the ends of the scarf over your shoulder and you're good to go. Easy!
JEWELED HEADBAND
---
I know this style from SunKissAlba isn't quite the style you wear on a daily base, but I wanted to include an option for a special occasion maybe a cocktail or a wedding. The accessory doesn't have to be the same you can use a small bow, a flower or anything you like and by changing it up you can also dress it down or up.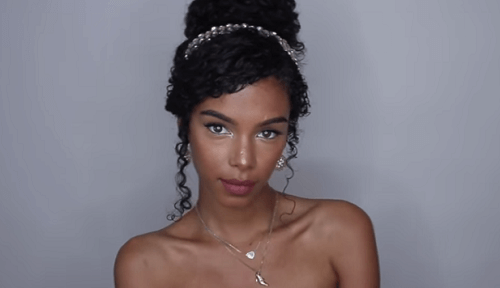 How to achieve it: Gather your hair up into a top messy/loose bun leaving a small section at the front. Place your headband, arrange the front section of your hair to fall over the forehead and pin it to the side. Pull a few curls on the sides for a bit more femininity, and that's it! Instead of the headband you can use a jeweled pin or a bow and the effect would be the same. A more polished and feminine look.
SCARF UPDO
---
I found this style really cute and thought that those of you transitioning that have a short to medium hair length would like to try it out. I don't think it would look as good with longer hair like mine. Doesn't TheChicNatural look good? I like quick and easy, and this style seems to tick all the boxes with an added advantage. If your hair is a few days old and you feel like you want to procrastinate a bit longer before washing and restyling again, then this style is just perfect. Go and try it out.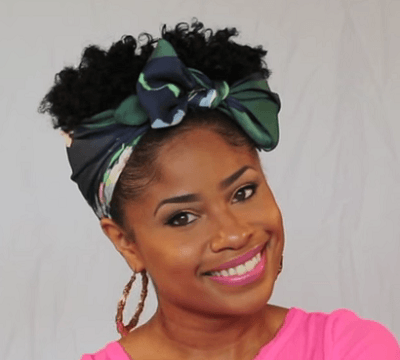 How to achieve it: Fold a small square satin/silk scarf into a triangle and if you need to, hydrate and re-moisturise your hair and smooth it up towards the top of your head. Place the widest part of your scarf at the back of your head with the tips pointing upwards and tie a bow at the front. Hide the tip of the scarf by folding it in and arrange your hair. Now your all pretty and cute.
I feel like I have a few styles to start off this Summer, and hopefully I've given you a few ideas too. Sometimes it's easier to do the styles we're used to because we do them quicker, we have the technique and know what products work best with what style. However, if we don't get out of our comfort zone we will never know how good other styles look on us, or even how easy they are to accomplish. Plus, what good is it to have the versatility of natural hair if we don't make use of it. I'll give it a go and I wish you do too.
What do you do to spice up your hairstyles with accessories? Do you like scarfs, bandanas, hats, hair jewelry? Are you more of a girly girl when it comes to hairstyles or not?